Amphibians 3 part cards (printed on pvc)
Amphibians 3 Part Cards EC-0401A
48 cards showing 16 real photographs of various amphibians each amphibian is isolated on a white background while still keeping a natural look and making it easy for the child to identify the object.

the cards come printed on 175 gsm card.
Card sizes for both card or pvc are as follows:
Whole Card: 9cmx 13cm

Part Card: 9cm x 10 cm

Label: 9 cm x 2.5cm
Comes printed on 175 gsm plastic, have tested the plastic by submersing it in water for 7 days and have tested it also for 21 days in the Queensland sun without noticing fading.
Advantages of pvc plastic are , colours stay stronger, feels like paper but it is smooth ,moisture resistant, last longer than even laminating, above all it saves staff time, the items are ready to be used.

Used for early reading activities.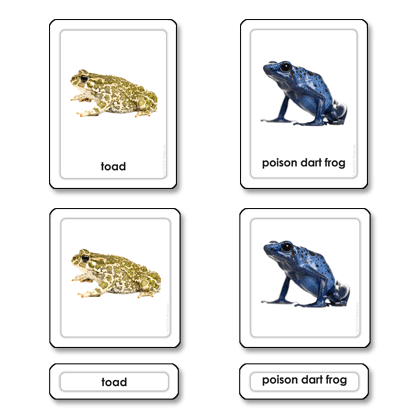 Shipping:
Calculated at Checkout